Lost a limb? You're not alone.
The majority of amputations occur due to complications of the vascular system, especially diabetes. Others are due to cancer and trauma. Some people are born without a limb. Whatever the reason, you should know you're far from alone: There are nearly 2 million people living with limb loss in the United States today and about 500 more people each day have a limb amputated.
But what's more important than how you lost your limb is learning ways to overcome physical limitations associated with amputation.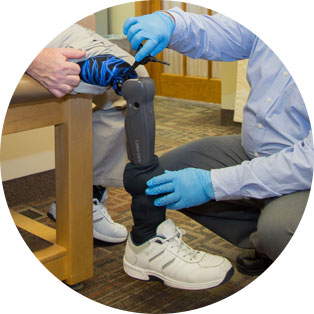 The amputation of a limb doesn't have to mean the end of independence. Whether you have recently lost a limb or have lived without one for a long time, we can help create a prosthetic that can help you still do all the everyday things you've always done, as well as the things that bring you joy — whether that is simple things like lifting your grandkids above your head or taking the dog for a walk to more strenuous activity, like playing on a softball team or going mountain biking.
Bay City is lucky to have two Prosthetist/Orthotists, Mark Fabrizio (Erie, PA and Jamestown, NY) and Tammie McElhinny, (Meadville and Erie, Pa).
Bay City OrthoCare prosthetics: Made in-house with fit and function a foremost priority
At Bay City OrthoCare, our clients' sockets are made in our in-house lab. Each prosthesis and it's componentry is designed using the latest technology with its individual user in mind. We will work closely with you to make sure the fit of the socket and the functionality of the prosthetic is just right.
We offer prosthetics for all upper and lower extremities — from full leg to partial foot and from shoulder to fingers. Women in need of post-mastectomy care, are seen by Tammie McElhinny in our Meadville, Pa. office. In addition to being a Licensed and Certified Prosthetist/Orthotist, Tammie is also a Certified Mastectomy fitter.
Our in-house labs also give us the capability of further individualizing your prosthetic with personalized socket designs. From camouflage to butterflies, to your favorite logos, we can give you the fashion you want with the fit and functionality you need!

Have questions? Email or call us today for more information.
"Having started my career at a very young age as a prosthetic technician, gives me a unique perspective on dealing with people who have lost a limb or have to wear a brace. I understand what they go through on a day to day basis and I like the fact that I can help people with physical challenges."
—Mark Fabrizio